VERDE VALLEY EDUCATOR OF THE WEEK: Erin Leckington
Second-grade teacher, Verde Christian Academy, Cottonwood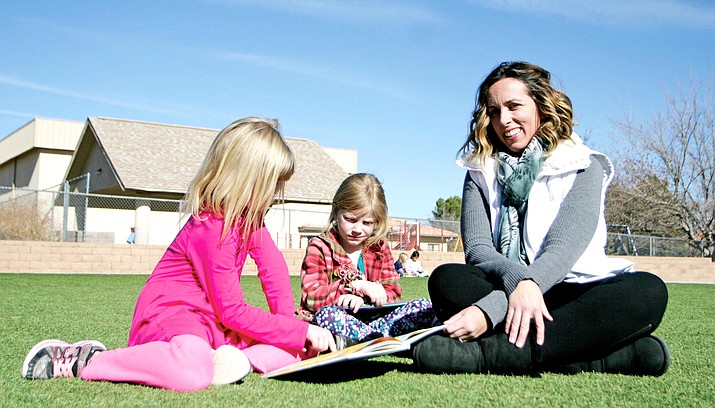 Originally Published: March 27, 2018 2:02 p.m.
COTTONWOOD – Erin Leckington is charged each day with shaping the destiny of her classroom at Cottonwood's Verde Christian Academy.
The second grade teacher says she is "humbled" each day by the opportunity.
"I love fostering a love of truth and knowledge in my students, engaging in thoughtful discussions, collaborating with my co-workers [and] creating exciting lessons," Leckington says. "But the most rewarding would be witnessing my students' not only grow academically but spiritually as well."
It was as a college student that Leckington, when she first worked part-time with preschoolers, "fell in love" with teaching.
After 18 years in the classroom, the last six at Verde Christian Academy, Leckington says that if she was not a teacher, she would be a school psychologist, high school guidance counselor, or marriage and family therapist.
"I just can't get away from helping others," she says.
For that sentiment, her supervisor is most happy.
Ben Russel, principal at Verde Christian Academy, has a "special blend" of "intangibles in teaching that differentiate[s] between good educators and great ones."
"From the first day of school to the last, her students practice classroom procedures so that they always know what classroom expectations are and can feel confident and successful following them," Russel says.
Says Russel, Leckington manages her classroom with "grace and kindness."
"Her classroom feels organized and peaceful," Russel says. "It's remarkable to watch how well students perform in this environment."
TEACHING STYLE  
"Quite frankly, I use a variety of teaching styles to engage my students. I make sure I incorporate the elements of effective instruction into every lesson, creativity, and Cooperative Learning so that each student is actively engaged. Students who love coming to school and learn is what I aim for."
NOTABLE
Erin is a member of the Psi Chi Honor Society.
Founded in 1929, the function of the Psi Chi Honor Society is to encourage, stimulate and maintain excellence in scholarship, and advance the science of psychology.
QUOTABLE
Says Ben Russel, Leckington "makes a difference by blending high expectations with great management and care and concern."
"This is a magical blend in teaching because when students know what the expectations are and are given the chance to stretch their brains in a loving environment, they thrive."
DID YOU KNOW?
Leckington also work with professional development company Branching Out as an instructor, helping teachers grow in their profession."
"I love teaching because it not only shapes the character and the mind of an individual, but future destinies as well and I get the pleasure to take part in that."