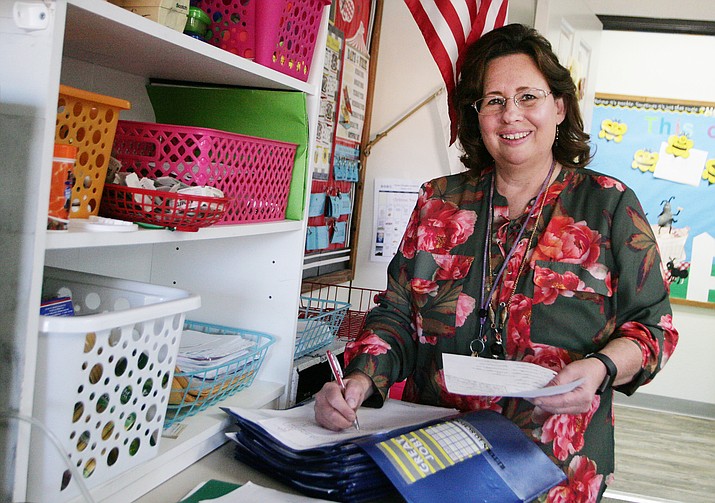 Verde Valley Educator of the Week: Alice Santamaria, Third-grade teacher, Verde Christian Academy, Cottonwood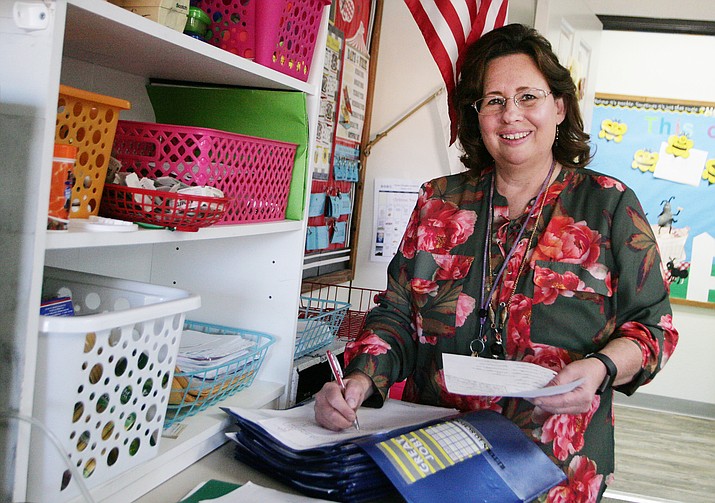 Photo by Bill Helm.
COTTONWOOD – It's been 30 years since Alice Santamaria began her teaching career.
At Verde Christian Academy the past 17 years, the third grade teacher knew right out of high school that she wanted to return to the classroom to help mold the minds of her community's youth.
According to Ben Russel, principal at Verde Christian Academy, Santamaria displays "vast amounts of grace and patience in the classroom."
"It's evident from the first step into her room that she cares," Russel says. "Her voice is always calm and patient, her words are chosen carefully to show love and concern, and her management style creates a calm and warm classroom environment."
Santamaria says that she loves how children "relate to the world around us with such wonder and enthusiasm."
Her favorite part about teaching is "when a child has been struggling academically and suddenly the lights go on. It's a precious moment and I feel incredible to be there to witness it."
NOTABLE
If Alice Santamaria was not a teacher, she would "probably do something where I could express my creative side, but I think I would still work with kids somehow. I can't imagine my life without being around them."
QUOTABLE
"I am truly grateful for the privilege of teaching in Christian schools. While I enjoy being a part of helping children prepare academically to be successful adults, I love watching the growth that happens in a child's heart.
"Seeing them put their trust in Christ, become even more loving and kind to those around them, and handling tough situations with faith and grace is truly rewarding far beyond the temporary moment. It's life changing."
TEACHING STYLE
"While I enjoy learning and implementing new ideas for making the classroom atmosphere more engaging, I would have to say that for me teaching is relational.
"It seems that the more I love on the kids, pray for them, treat them with respect and grace while letting them know that I am there to help them succeed, the higher progress I see in my students.
"Once the kids realize I really do believe in each one's individual success, they too begin to believe it for themselves and from there … the sky is the limit."
DID YOU KNOW?
"I didn't grow up dreaming of being a teacher. In fact, I had always planned to be a missionary nurse in Africa. Once I realized that nursing wasn't for me, I had no idea what I was to do with my life.
"Through God's guidance and the help of my parents, I realized I had a gift for teaching and that I had already been doing so in many related activities.
"From there, the call to teaching was very evident and I have never regretted my decision to pursue it and love it.
"Along with teaching in regular classrooms, it has also led me to many other adventures including teaching in Costa Rica for 13 years, teaching children Spanish and even English as a second language to adults here in the States. It's been a great career."
Originally Published: February 6, 2018 11:45 a.m.