Q&A with VERDE VALLEY'S EDUCATOR OF THE WEEK Debra Terrey, first grade teacher, Verde Christian Academy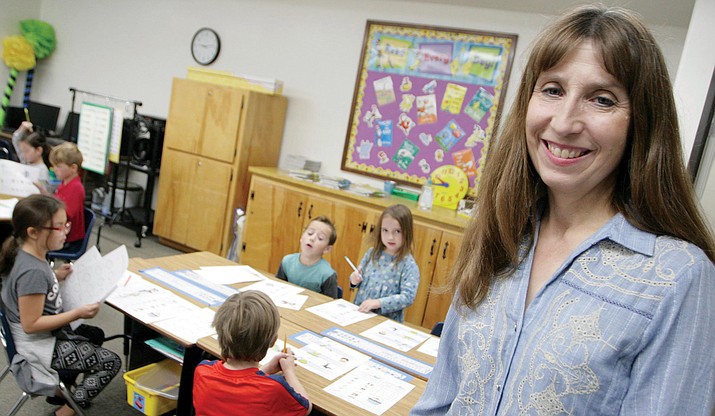 Originally Published: November 13, 2018 1:21 p.m.
COTTONWOOD – Ben Russel recently sat behind Verde Christian Academy first grade teacher Deb Terrey during the school's chapel time.
What the school's lead administrator noticed was a "rather energetic" former student of Terrey's wrap an arm around the teacher's waist. They stood together, the student and Terrey, while they sang a song.
"It was evident that this was a relationship formed deeper than most," Russel said. The school, and its students, are "blessed to have had Mrs. Terry working with, and loving on, our elementary students for these years."
More than 30 years in education, the past 26 at Verde Christian Academy. Terrey was in high school when she first decided that she wanted to become a teacher.
In the classroom, Terrey said that she "really enjoy[s] seeing my students learn new concepts."
"They are very enthusiastic about learning and it is so rewarding to see the light bulb come on when they make a new connection," Terry said. "I also thoroughly enjoy teaching piano lessons and seeing the growth that my students are making on a weekly basis."
Terrey has a "calm and quiet classroom" with "many opportunities to learn," Russel said.
"She blends her teaching with myriad opportunities for students to gather together in pairs and in groups to process and work together on information that they have been learning," Russel said. "Her students are often found engaged and having fun. They love her and strive to perform well for her."
If Terrey was not a teacher, she "would like to be a guidance counselor to help high school students as they transition into college."
VVN: Tell us about your teaching style.
Terrey: I am really enjoying using Cooperative Learning Strategies in my classroom. The students work in small groups and every student is accountable for participating in the assignment and answering questions about what another team member's ideas were. This is a great way to keep all the kids on task and they also learn from each other.
VVN: Tell us something notable about your career.
Terrey: I have a Bachelor's Degree in Elementary Education with an Endorsement in Music Education.
I finished my Master's Degree in Elementary Education with a 3.95 GPA.
VVN: Do you have a favorite quote or saying?
Terrey: When students know that teachers care about their lives, they will strive to do their best work in class.
VVN: Tell us something most people don't know about you.
In college, I wasn't sure if this was the profession I was best suited for.
When I started my student teaching program, I found that I loved teaching and have ever since.
I thoroughly enjoy getting to know my students and their families and I love the different ways kids think.
It is the most rewarding job I can imagine and I keep an encouragement file with notes and letters the kids have written to me over the years.