Verde Valley Educator of the Week: Peggy White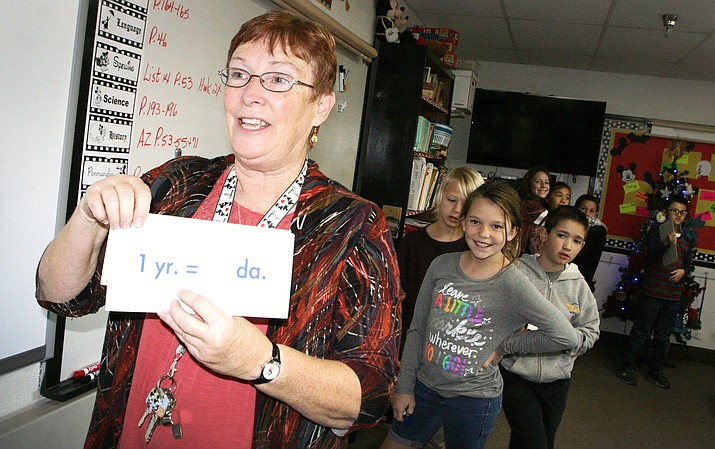 Originally Published: December 12, 2017 12:17 p.m.
COTTONWOOD – Peggy White says that if she weren't an educator, she'd love to be a writer.
Truth is, the fourth grade teacher at Verde Christian Academy in Cottonwood also blogs each day.
Called Word of the Day, the purpose of White's blog is to "encourage those who need encouragement."
When not writing, White is prone to making a difference in the lives of her young students.
"We all remember the teachers who had a remarkable impact on our lives," says Ben Russell, lead administrator at Verde Christian Academy. "They loved learning, had a grace-based approach, and made everyone feel loved and included.
"Mrs. White is that kind of teacher. Her passion for learning sparks students' curiosity."
Russell points to White's love of Arizona history as a "highlight from her classroom."
"Her class can be found on monthly treks across this beautiful state in search of clues from the past," Russell says. "From gold panning, to museums, to hunting apples in Oak Creek Canyon, her students catch a lifelong desire to know and grow."
White says that she came "from a family of teachers, including both my parents."
"After high school it just seemed natural to go after my teaching degree," she says. "I can't imagine doing anything else."
TEACHING STYLE
"I have always loved having the students work in groups doing hands-on projects. I feel it is crucial that they learn to work and learn together with others.
"In recent years, I have upped my group work based on classes I took in Essentials of Education, Differentiated Instruction, and Kagin Structures. These classes have enabled me engage the children's attention as well as making my teaching more effective."
NOTABLE
Featured in ADDitude Magazine.
Also, her daughter Betsy is following in her footsteps and is now teaching in the classroom next door.
QUOTABLE
"I want my students to come to school with a smile on their faces anticipating the plans I have for them and I want them to go home each day with a smile having enjoyed their day.
"In between, I want them to learn all they need to know to be successful; and learn it in a way that meets their individual learning style."
DID YOU KNOW?
White's entire teaching career has been in Christian education.
"I am happy to be a part of a move toward greater excellence in Christian schools," she says.